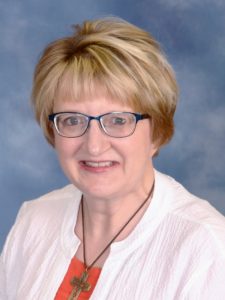 My name is Pastor Sarah Larsen Tade. What an amazing call to serve as Lead Pastor at American Lutheran of Windom! I came here in September 2013 after serving a multi-point parish in Eastern North Dakota for nearly ten years. The decade before that I had the privilege to serve in Global Mission working with the Evangelical Lutheran Church of the Central African Republic. There, I met my husband Noel. We are blessed with 3 children Yanick, Isaac and Eliana. I graduated from Beach High School (ND) in 1986, from Concordia College (Moorhead, MN, music ) in 1986 and the Lutheran School of Theology at Chicago in 1992. Alongside of ministry and family I enjoy life in community, travel, learning and people!

JANE CARTWRIGHT
WORSHIP & MUSIC MINISTRY COORDINATOR
Greetings! My name is Jane Cartwright. I am the Worship and Music Coordinator. I grew up in a smaller church community near St. Paul, Minnesota. Participating in worship was something that was instilled in each individual, as we all had our individual talents. I come from a musical family, where music was a part of growing up. That extends to my two daughters who both enjoy different aspects of music. It is something that families can share and participate in together. Music creates lasting memories.
I strive to make worship experiences at American Lutheran Church of Windom meaningful. There are many ways for individuals to participate in worship; Greeters, Readers, Communion Assistants, or joining any of the musical groups such as ALC choir or the handbell choir. There is always room for individuals to participate in solos, or sharing musical talents with various instruments. As always, there is always a spot for you in the pews, but I would love to encourage others to actively participate in other aspects of worship.